Careem, Property Finder and Anghami Give their Insights on the Growing Process in the Start-up Business

Mr. Dany Farha, Managing Partner of BECO expressed "We are debunking the myth that says success comes very quickly, it doesn't."

BECO Capitals held an exclusive investor event at the Boost MENA Investor Forum 2018 where the speakers, as thoroughly chosen, and being start-up founders themselves, took part in sharing the milestones and success stories of their businesses.

Collectedly, the speakers made it very clear that success isn't a double click away. So, how long does it take? Careem, as well as Property Finder and Anghami, shared their start-up narratives from their early beginnings to this date.

Careem, for example, currently available in 120 cities in 15 countries, started out offering rides exclusively to corporate costumers in their first year, taking them to their destinations. However, within a year of its launch, Careem gradually moved into Business-to-Consumer Transportation, i.e servicing anyone who asks for a drive. All to arrive to today where they have three sole verticals: Moving people, moving things and wallet; creating up to 1,000,000 jobs of captains and drivers and 35,000,000 users in the process. Below is some insight shared orally by the founders of Careem on stage we put together in an infographic:

As for Property Finder, they started out as a print publication that has the listing of properties in Dubai. Big real estate groups could not advertise with them due to exclusivity rights to print ads that they had signed with Gulf News and others. Luckily for them, those exclusivity rights did not extend to digital, so they focused their work on digital publication.

Anghami, however, currently reaching a number of 1.5 billion streams per month, were the outcome of an eagerness to listen to music during leisure time. An eager that now harbors 2 million artists, 118 staff members and 13.5 million active users. Below is some insight shared orally by the founders of Anghami on stage we put together in an infographic: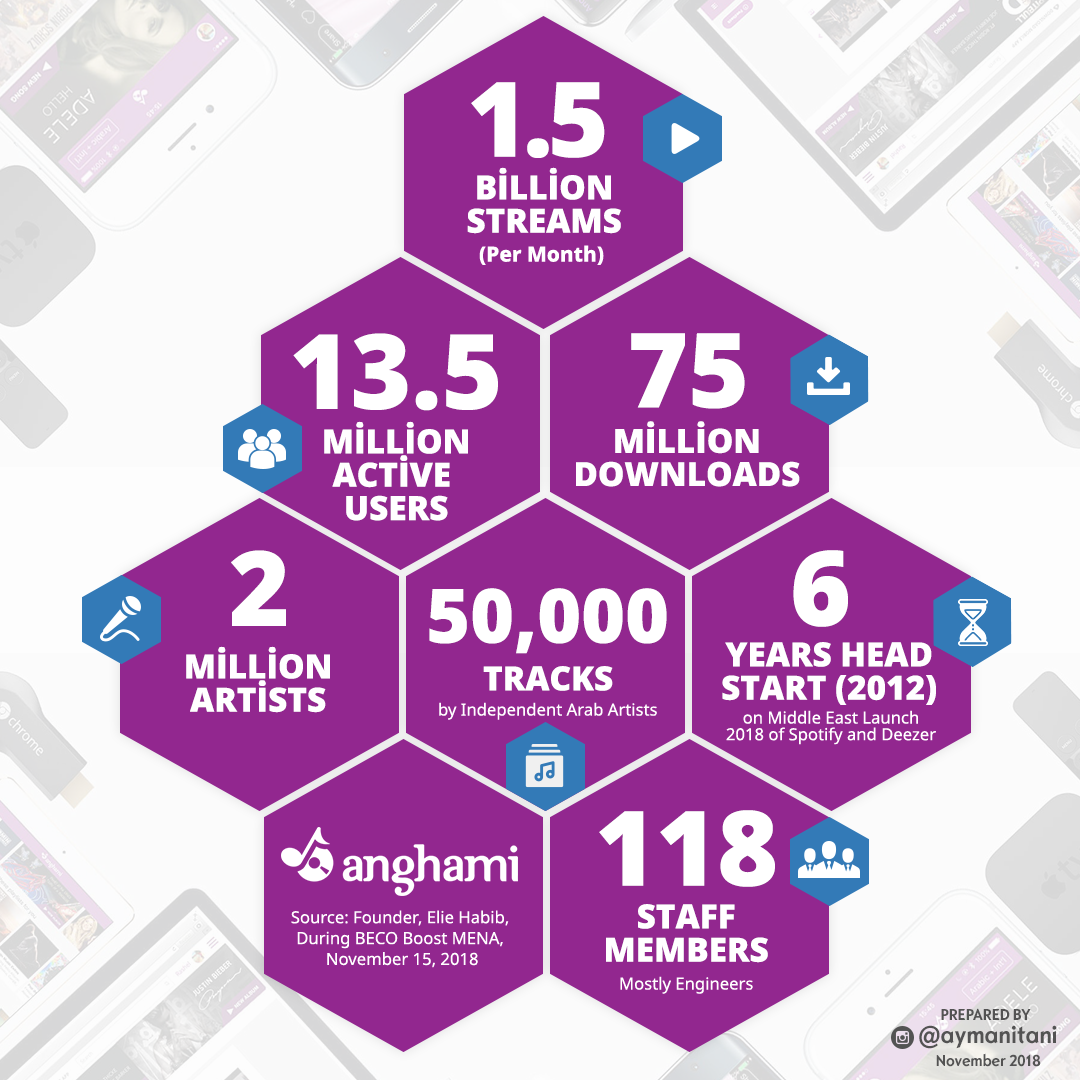 Numbers and stats may vary from one business to another but one thing all start-up founders agree on is that it takes time and patience and it will eventually and most efficiently, pay out.